Comfortably Numb® Original Roll-on
Regular price
Sale price
$22.00 USD
Unit price
per
Sale
Sold out
Comfortably Numb® Roll-on is the MAXIMUM STRENTH original formulation. If you have ever been privileged enough to apply the original - you know this isn't a pain reliever for wimps. There is the infamous strong sensation of cayenne and menthol which goes to work almost immediately to numb the pain away.

13 OF THE MOST POWERFUL PAIN RELIEVERS infused in one bottle. Comfortably Numb® has only the purest and most potent extracts which may stop pain and reduce painful inflammation in muscles, joint & tissues within minutes.   

FAST RESULTS! Comfortably Numb® absorbs directly into the skin and as a result, the numbing ingredients reach the site of your pain. This is why users report rapid pain relief, even after the first treatment.

INFUSED WITH ORGANIC, WILD-CRAFTED & THERAPEUTIC-GRADE INGREDIENTS: Absolutely NO parabens, phthalates, or other nasty chemicals are in Comfortably Numb®. You can actually read and understand the ingredients

MORE CONVENIENT THAN MESSY CREAMS! Hands-free & portable relief you can simply roll on the site of pain - wherever you are - whenever you need it.
⭐⭐⭐⭐⭐ "I work as an electrician, and I am always straining my neck throughout the day.  I am blown away by how well Comfortably Numb® works on my neck pain and shoulder soreness. Highly recommend this little bottle to anyone with pain."  ~C. Hansen



This powerful pain-stopping roll-on is what started the NUMB CRAZE. This little bottle is meticulously-formulated & organically-infused to penetrate deep into your muscles and tissues for fast, long-lasting pain relief. No need to wait for it to kick in.

Comfortably Numb® roll-on provides SUPER FAST & SOOTHING relief for all types of pain due to overly-worked muscles, too many hours looking at your phone or just plain ol' bum knees. This easy-to-carry-take-it-everywhere bottle makes it convenient to become numb anytime and anywhere you are.

Organic oils infused with all the heavy-hitters:  Arnica, Calendula, Cayenne, Menthol, Wintergreen, Ginger, and Turmeric - then combined with the delivery system of DMSO to bring the therapeutic and anti-inflammatory benefits deep into your cells, tissues, ligaments, muscles and joints.

PREFER A BALM TO MASSAGE INTO SORE AND OVERWORKED MUSCLES & JOINTS? TRY COMFORTABLY NUMB® BALM: https://www.comfnumb.com/products/comfortably-numb-balm
Directions for Use

Shake bottle gently (with cap on). Using a circular motion, rub Comfortably Numb® on sore, achy and inflamed areas of body as needed. A little goes a long way - do not over-saturate - there IS cayenne in it, after all. Broken, irritated or heated skin may be more sensitive to the powerful ingredients.

For external use only. Wash hands thoroughly after use. Avoid contact with eyes...trust us on this. Pregnant women should consult their health care professional before use. Keep away from children, Do a patch test to determine sensitivities or reactions to ingredients in Comfortably Numb®. Carry on with your life, and do the things you love - without nagging pain. 
Ingredients

Wintergreen essential oil*, jojoba oil*, hemp seed oil*, olive oil*, arnica*, calendula*, cayenne*, menthol crystals, ginger*, turmeric*; eucalyptus, chamomile, lavender & geranium essential oils, DMSO, Vitamin E. *denotes organic ingredient. See Benefits of Ingredients for botanical names and more information.
Benefits of Ingredients

Organic Arnica (Arnica Montana): Anti-inflammatory properties for treating and reliving muscle aches, spasms, pulled muscles, rheumatic pain, sprains, bruises and swelling;

Organic Calendula (Calendula officinalis): Effective pain-reliever for sore and inflamed muscles. Prevents and calms muscle spasms;

Wintergreen Oil (Gaultheria procumbens): One of the main ingredients in COMFORTABLY NUMB, it is most renowned as a pain reliever for muscular or skeletal issues. When added to liniments and topical pain relievers, it helps to ease muscle and/or joint pain;

Pure Menthol Crystals (Mentha arrensis): Menthol is a natural cooling analgesic (pain reliever), produces a numbing effect, increases blood flow to an injury - which results in cellular repair;

Organic Ginger (Zingiber officinale): Powerful anti-inflammatory when applied topically. Ginger and ginger oil can help reduce prostaglandins, which are the compounds associated with pain. 

Organic Cayenne (Capsicum annuum): Cayenne is famous for reducing many types of pain. Capsaicin, a major constituent of cayenne peppers, blocks substance P - a neurotransmitter that relays information and result in what we call pain - and therefore reduces pain and tenderness;

Organic Turmeric (Curcuma longa): Anti-inflammatory properties make it particularly effective for relieving arthritis pain - found to be just as effective for relieving arthritis pain and as effective as cortisone in treating acute inflammation. 

Chamomile: The key to chamomile's effectiveness lies in the volatile oils found in its flowers which penetrate below the skin's surface into the deeper skin layers. Its anti-inflammatory properties is useful for arthritis, injuries, and back pain. 

Lavender: Topical application of lavender calms sore and inflamed areas and increases cell growth. Lavender has the ability to treat sore and tense muscles, rheumatism, sprains and backache. 

Eucalyptus: Originally referred to as "eucalyptol" by the scientific community, the health benefits of eucalyptus oil come from a chemical now known as cineole — an organic compound shown to hold astounding, widespread medicinal effects, including everything from reducing inflammation and pain to killing leukemia cells!

Geranium: Geranium oil is found to be effective in mitigating pain, especially pain resulting from nerve damage as in peripheral neuropathy caused by diabetes, or in autoimmune conditions like multiple sclerosis and lupus. Nerve compression also causes sharp, unbearable pain at times, as does shingles caused by herpes virus and the post-herpetic neuralgia that follows. Since nerve pain is usually chronic, natural remedies are a better alternative to painkiller drugs that come with many side effects.The astringent effect of Geranium oil draws out excess fluid from the skin and the muscle tissue, tightening and toning muscle tone.  

DMSO (Dimethyl sulfoxide): An organic substance from pine bark. Rubbed into the skin - the most common method of DMSO treatment - it is quickly absorbed into the deeper tissues. When combined with other substances - such as the other ingredients in COMFORTABLY NUMB, DMSO efficiently delivers the therapeutic ingredients into the underlying area where they are needed. 

INFUSED IN:

Jojoba Oil: Unlike other carrier oils, jojoba oil does not oxidize or turn rancid. It has an indefinite shelf life and helps extend the shelf life of essential oil formulations.

Hemp Seed Oil: Applied topically, hemp oil can reduce inflammation and skin conditions, primarily because of its essential polyunsaturated fatty acids (PUFAs),  including omega-3s and omega-6s.
Disclaimer

All recommendations are believed to be effective, but since actual use of these products is beyond our control and can vary from individual to individual, no guarantee as to the effects of their use can be given nor liability taken. Products are for external use only and are NOT for oral consumption. All products are intended for adult use and must be kept out of reach of children and pets. Please do not use any herbal products if pregnant, nursing, have epilepsy or have underlying conditions restricting you from using natural products. Please seek medical advice before using if any of the previously stated conditions apply to you. These products have not been evaluated by the Food & Drug Administration and does not intend to diagnose, treat, cure or prevent any disease, any medical condition, or substitute care by a medical practitioner. 
Share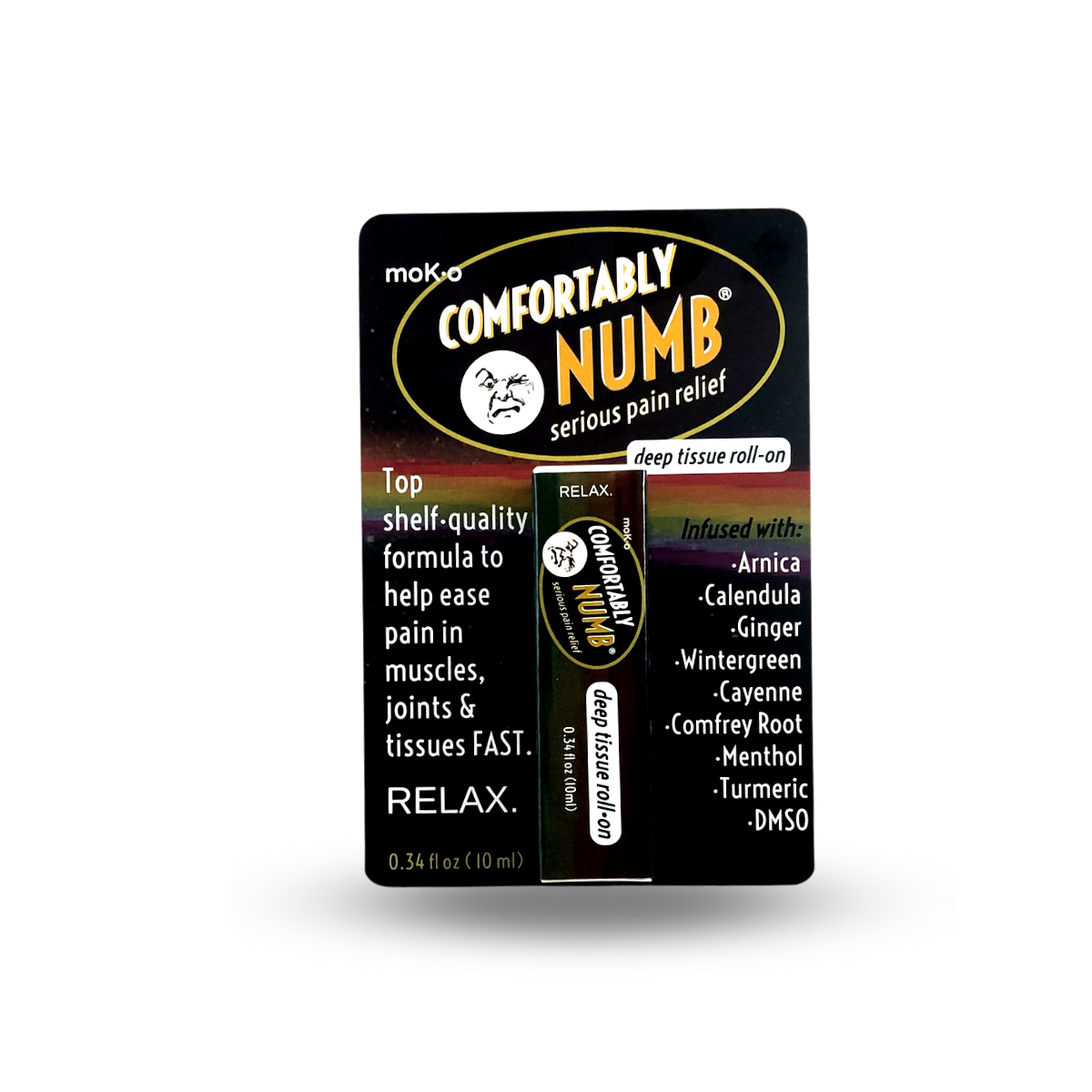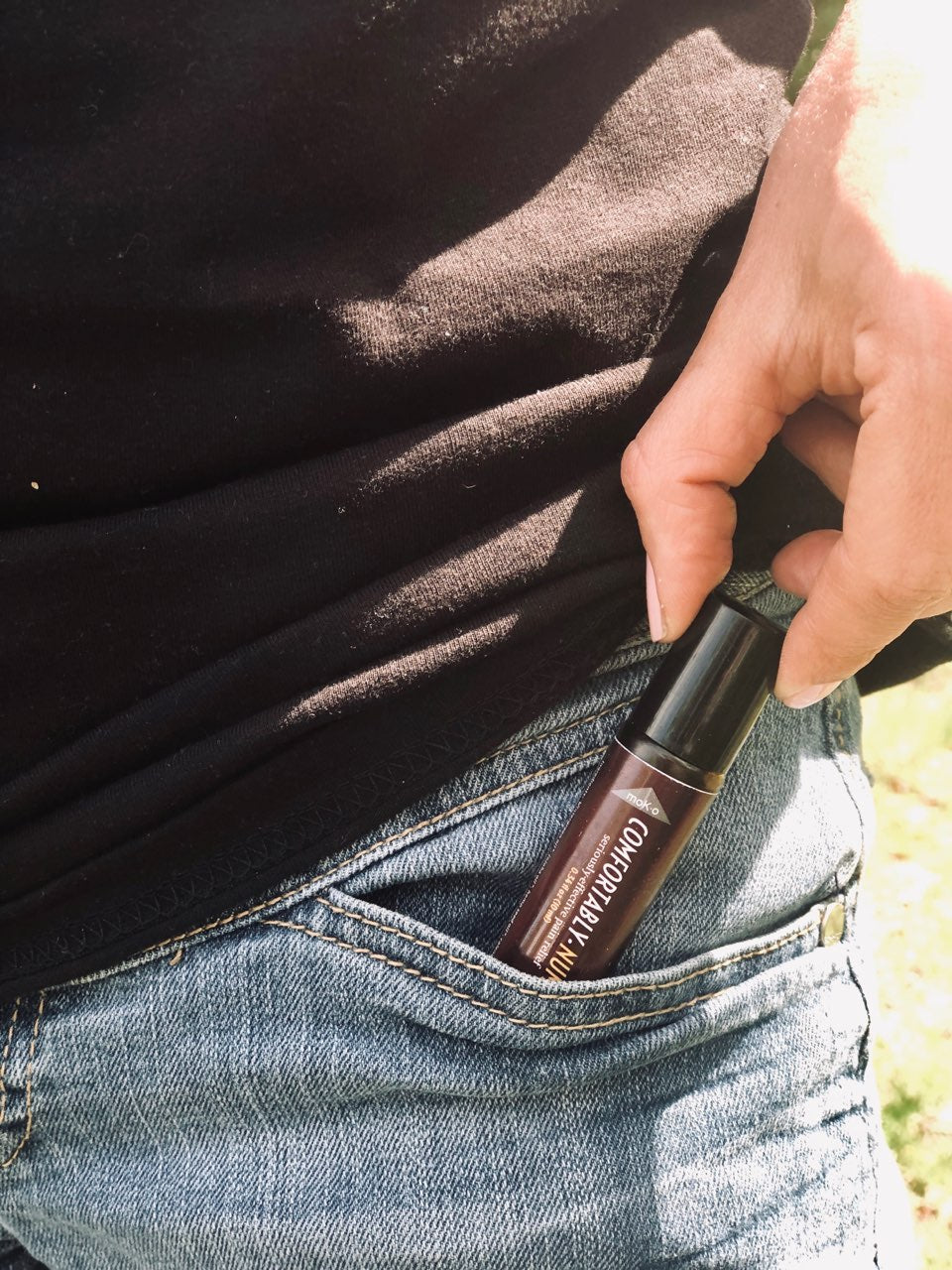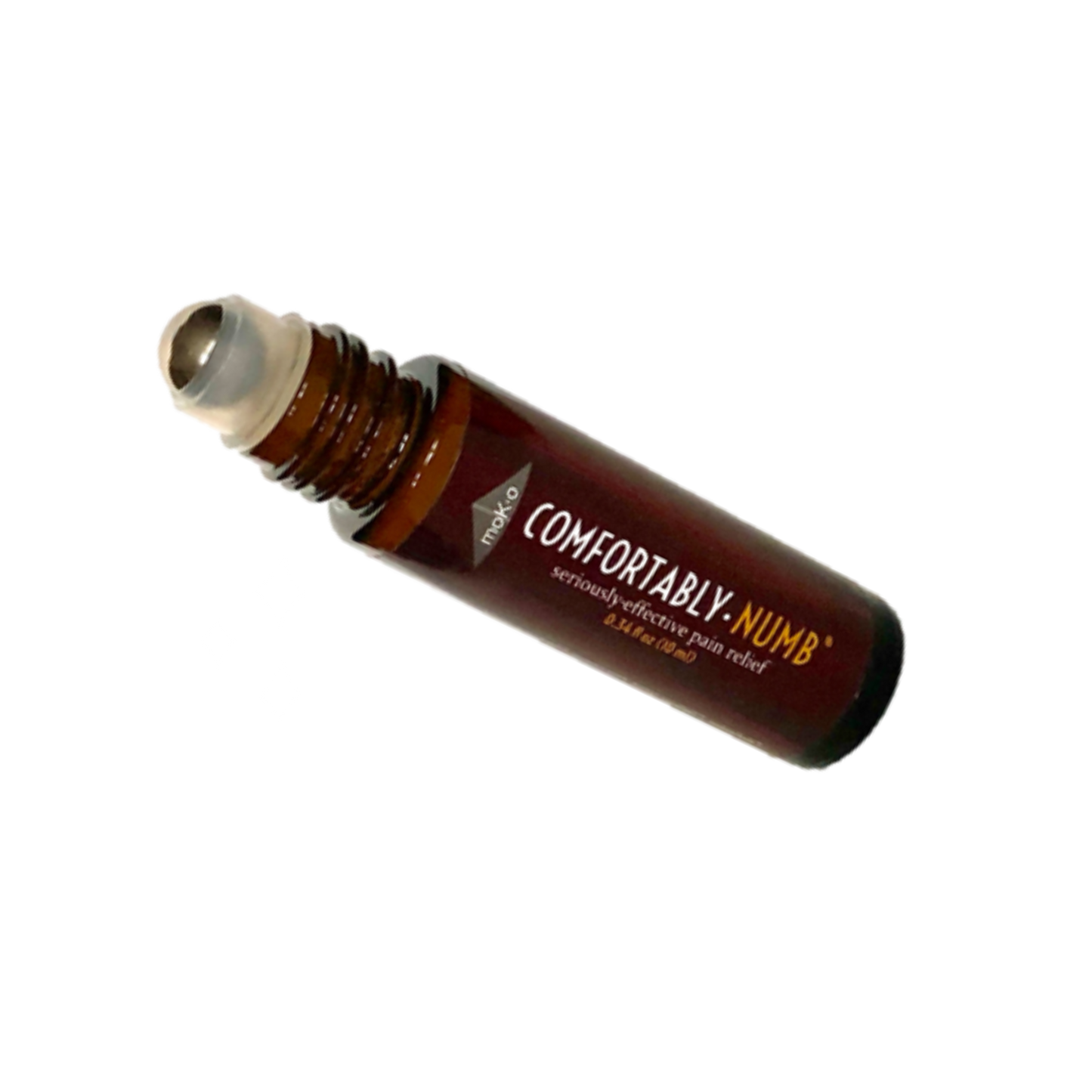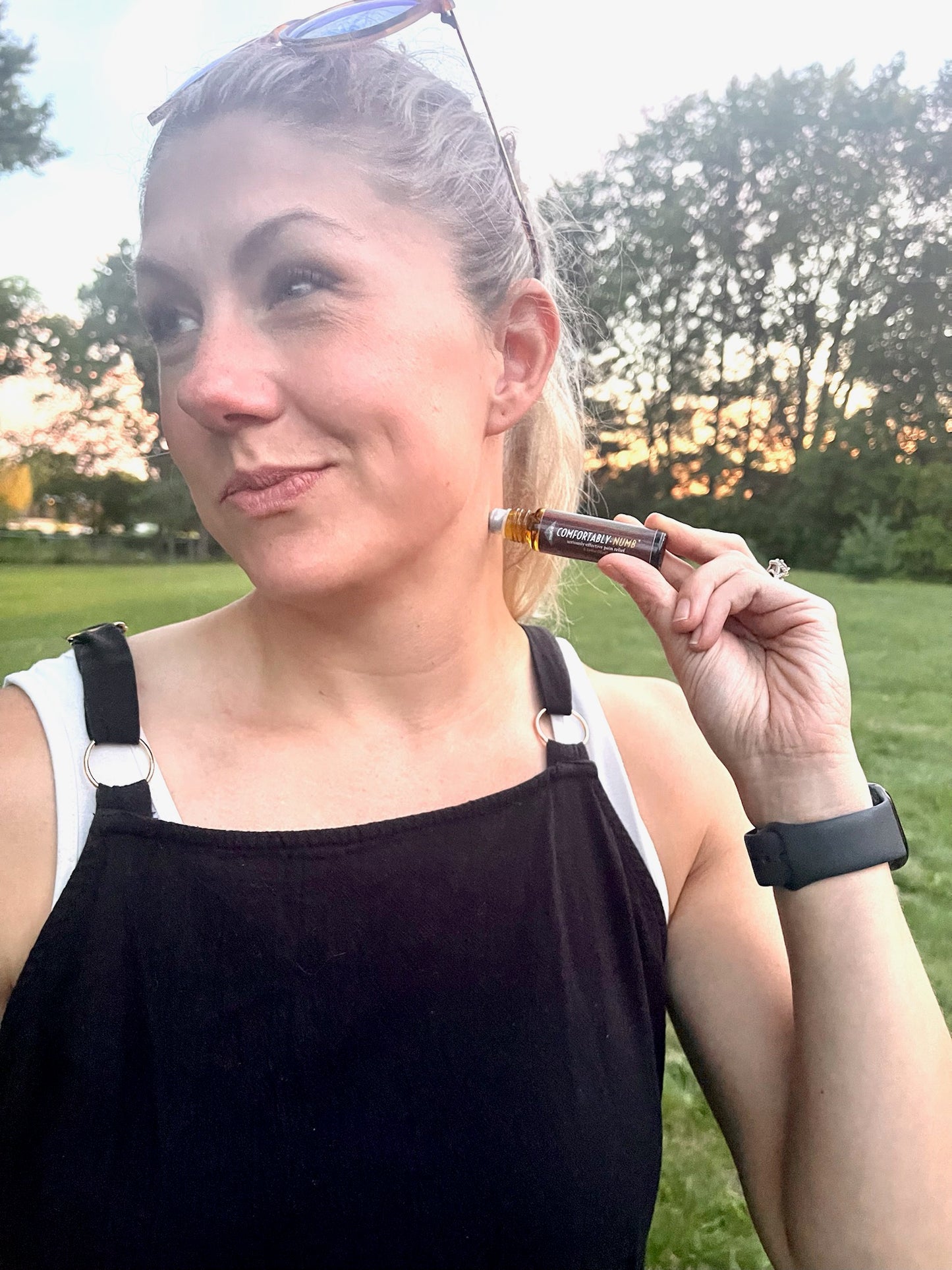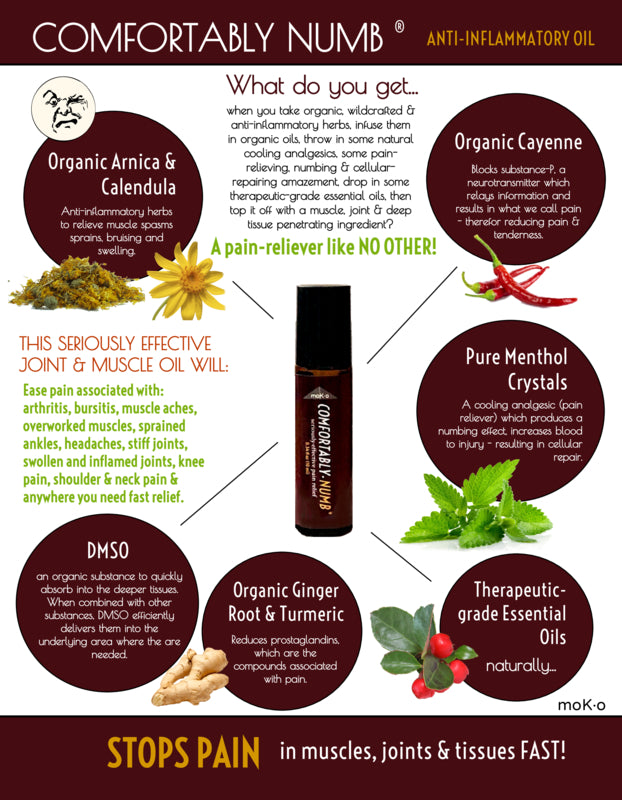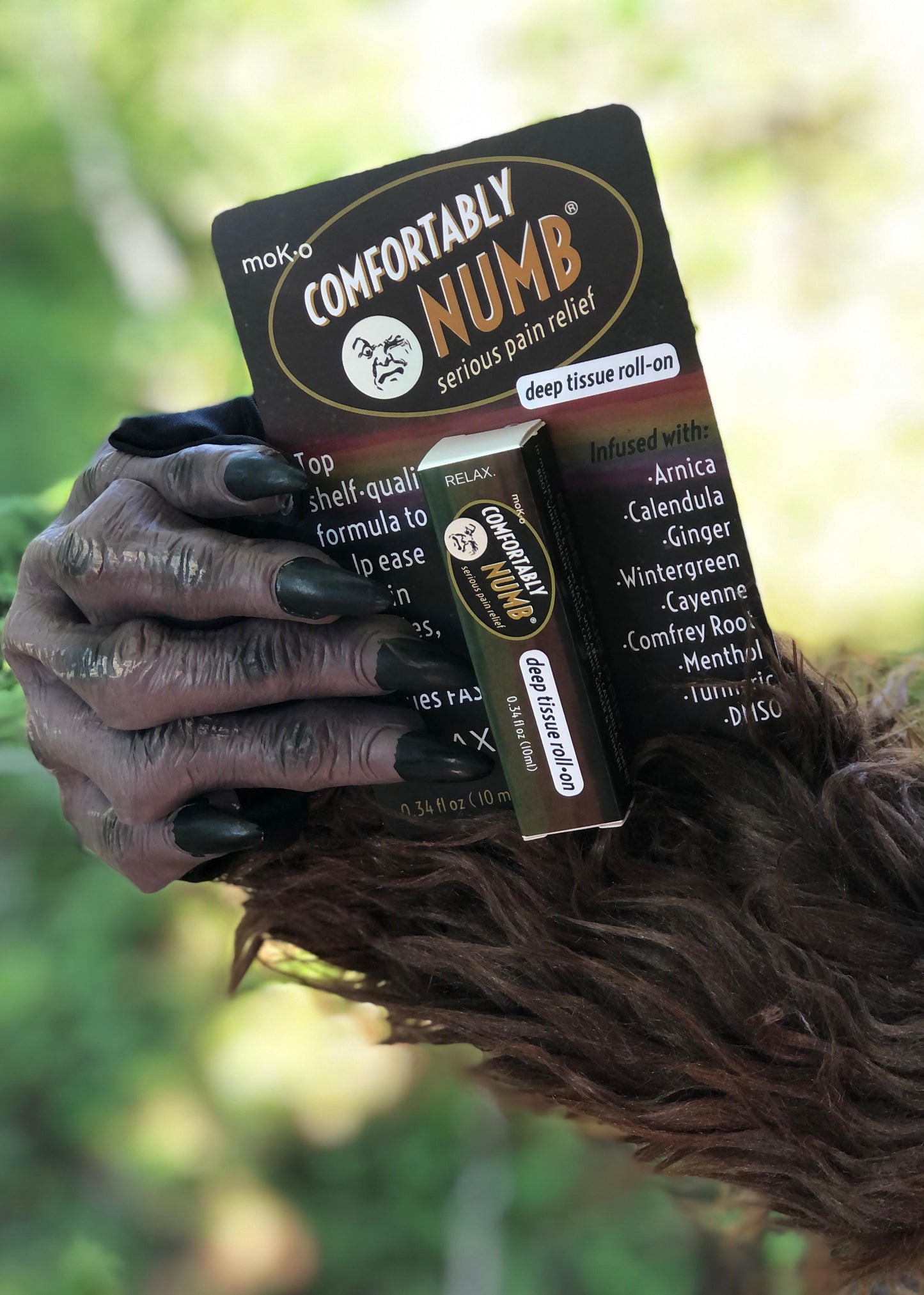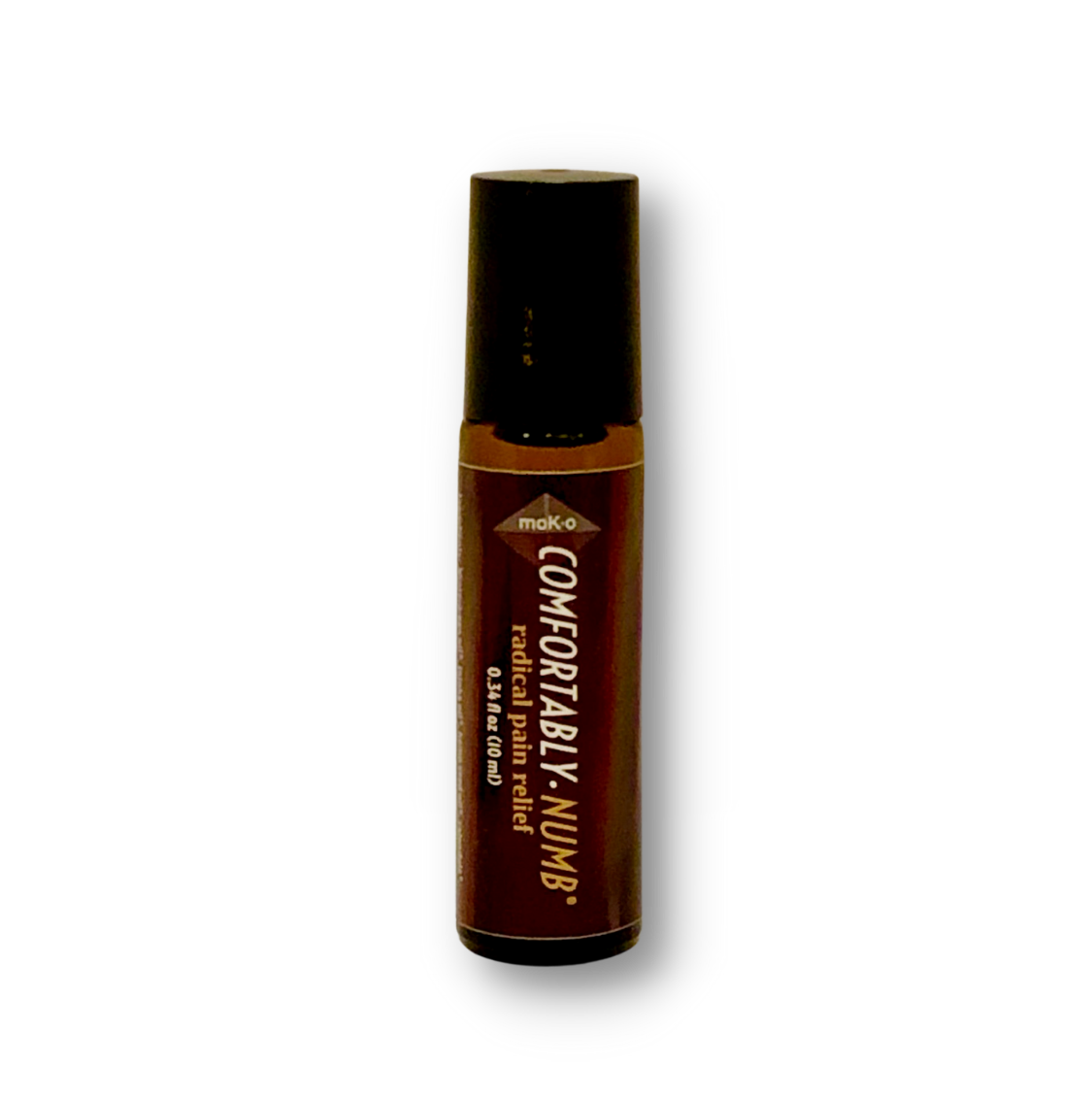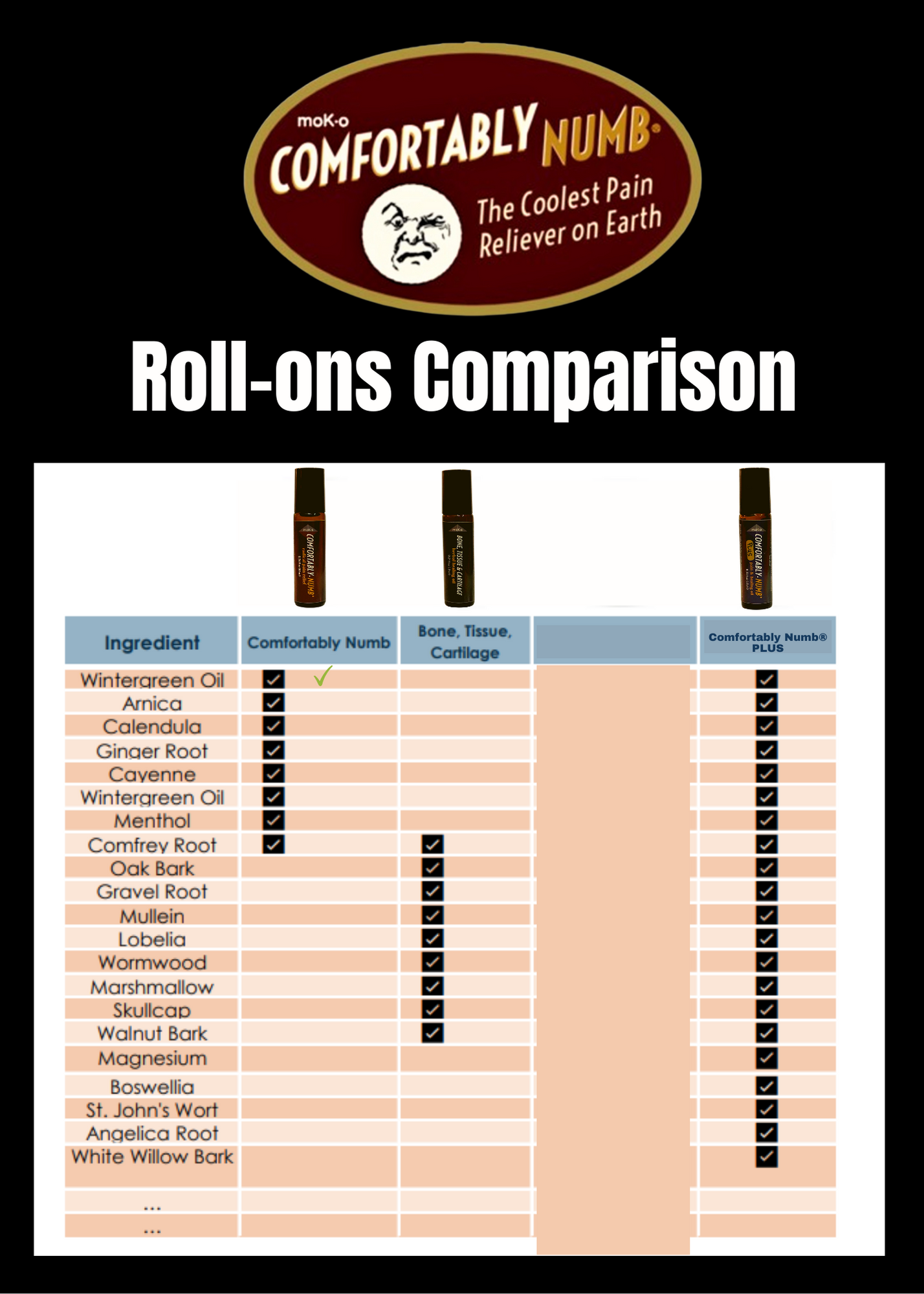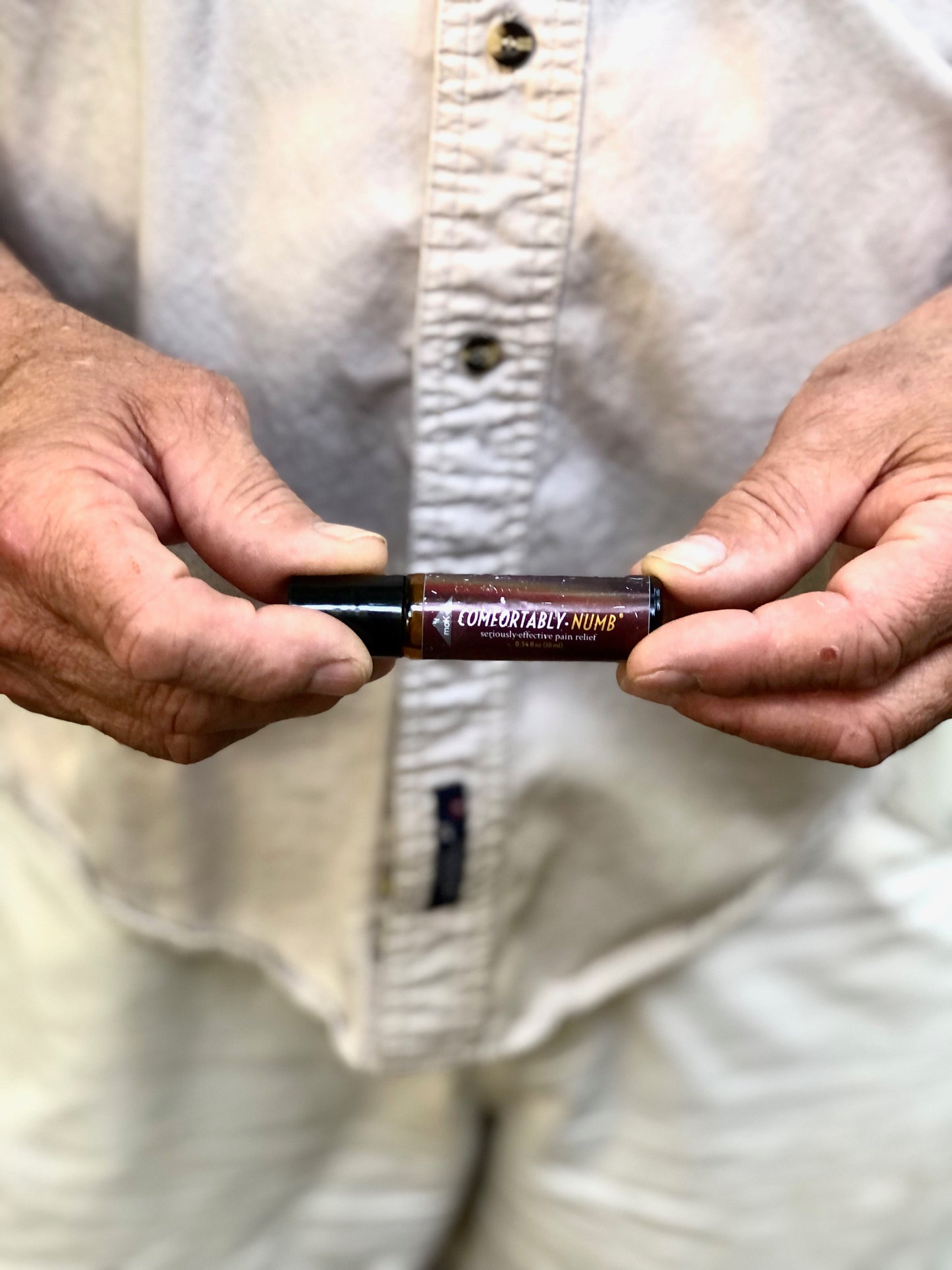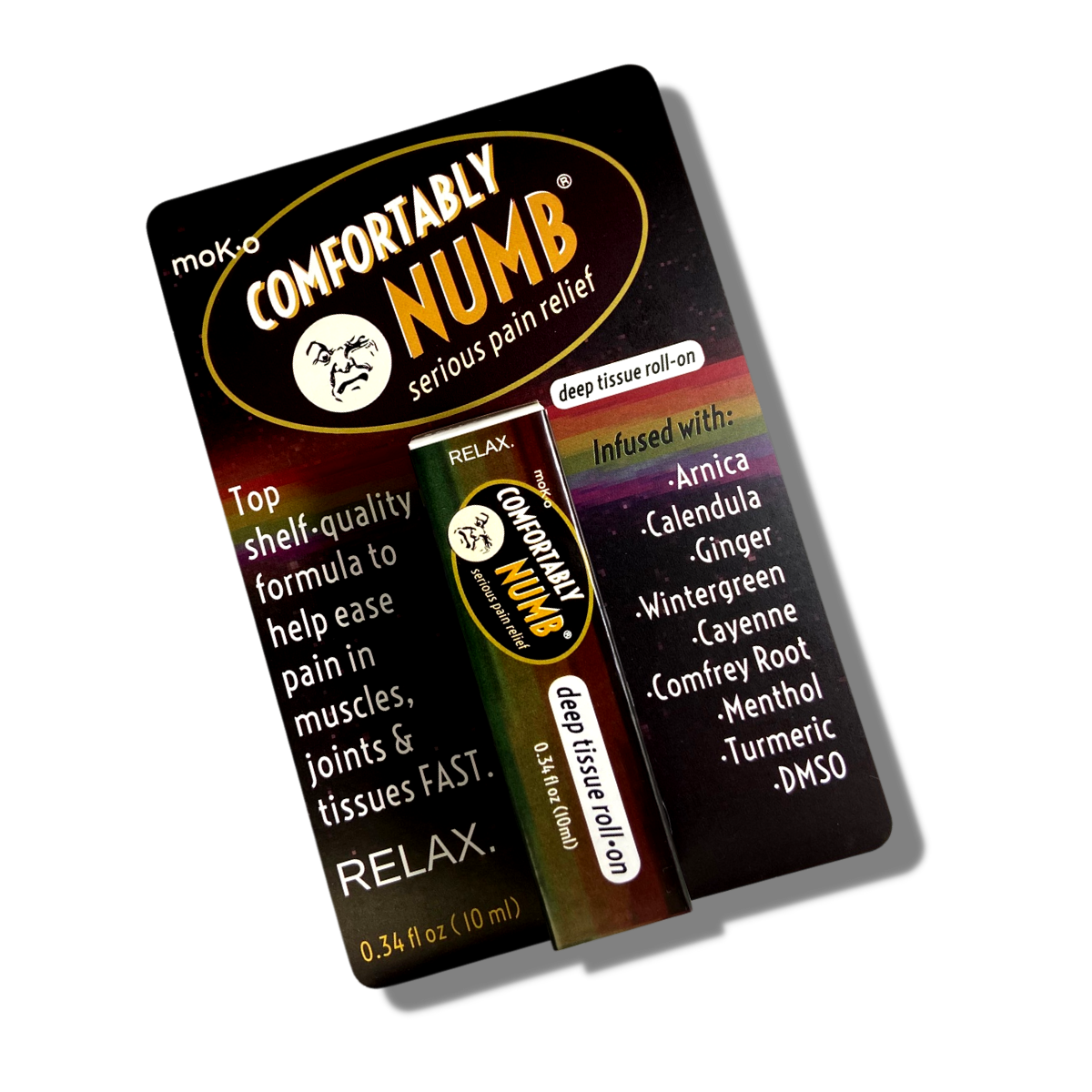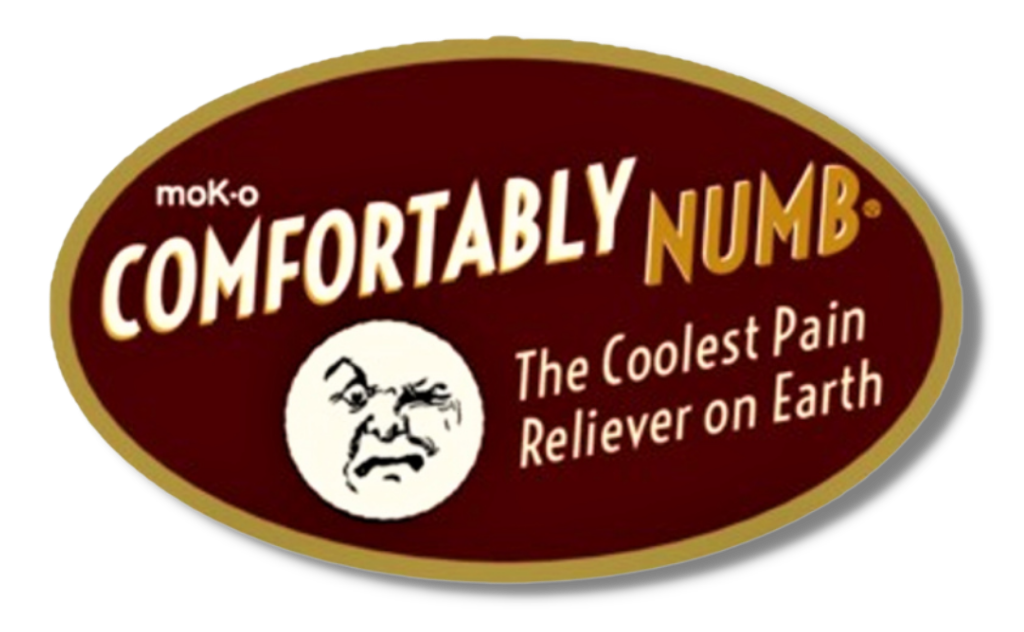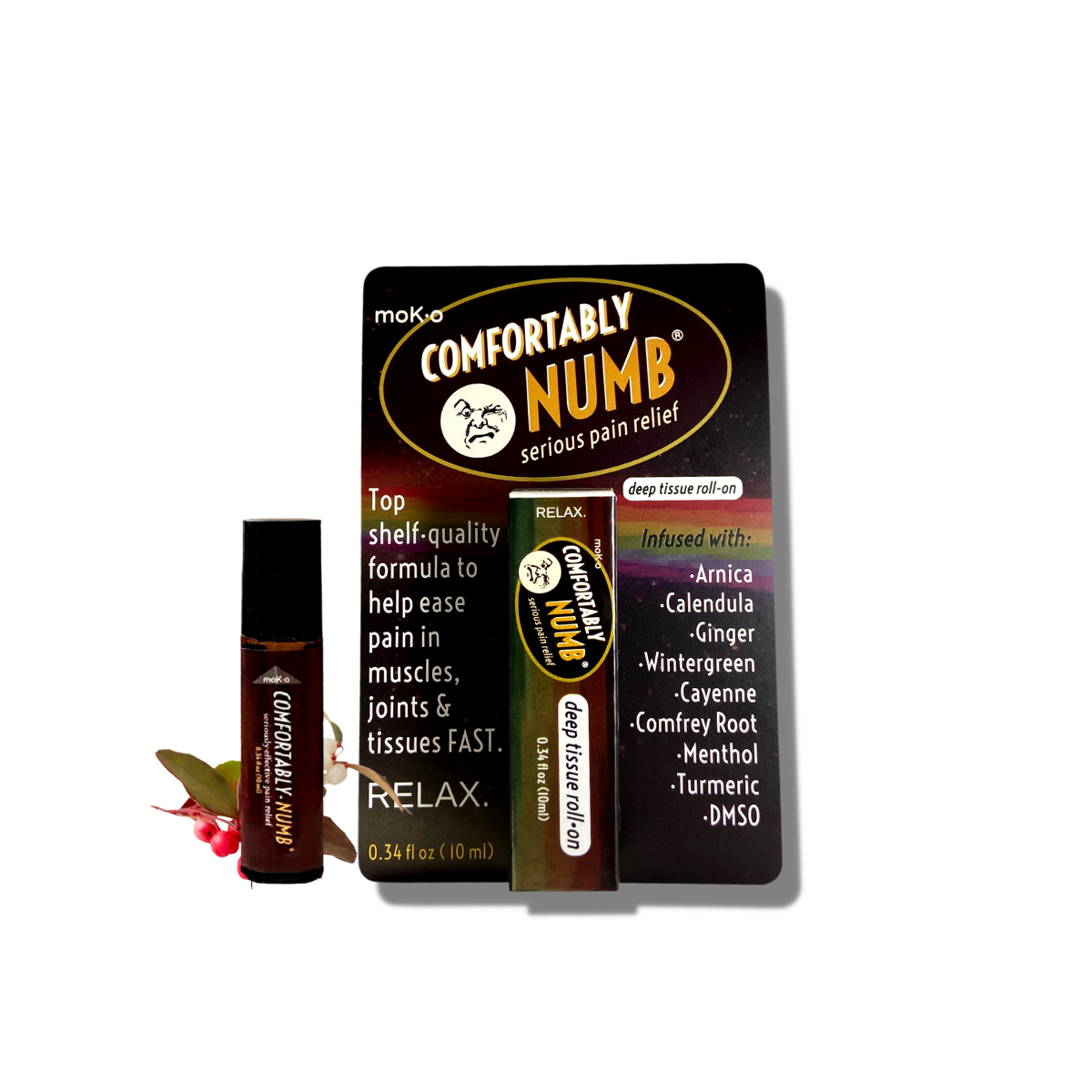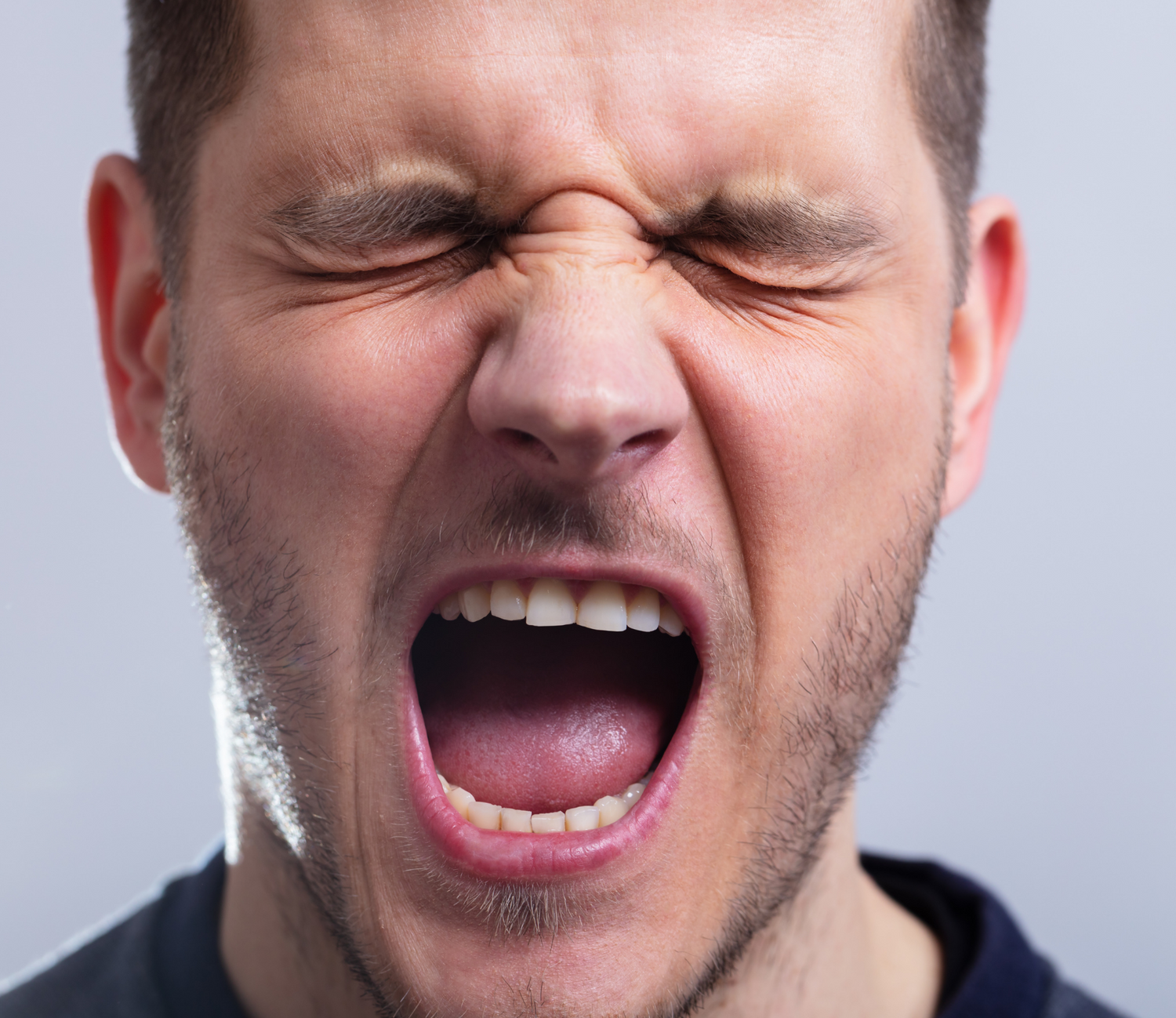 The Official Oil of the U.S. Toe-Stubbing Team.
RUN - DON'T WALK - to your nearest bottle of Comfortably Numb® when you stub your toe, bonk your knee or boink your elbow.
The fast-acting ingredients penetrate deep into your banged extremities FAST which may help prevent swelling, pain, and curse words in record time.
ALWAYS have your little bottle of Comfortably Numb® in close proximity to you - ESPECIALLY if you're borderline clumsy & accident-prone.
Magical Menthol
Menthol provides a cooling sensation when applied to the skin, which may help relieve pain in the tissues underneath the skin. Topical Menthol is used to provide temporary relief of minor arthritis pain, backache, muscles or joint pain, or painful bruises Thankfully there is an abundance of Menthol in Comfortably Numb® products.
IT ISN'T CALLED THE COOLEST PAIN RELIEVER ON EARTH FOR NOTHING!
Walking Like A Champ

⭐️⭐️⭐️⭐️⭐️ "I walk everyday and since using Comfortably Numb®, my walking pace has picked up considerably. I have been spreading the word about Comfortably Numb® to anyone who will listen." ~ David M.

The Day The Music DIDN'T Die.

⭐️⭐️⭐️⭐️⭐️"I own a music studio and play a lot of guitar. I always have COMFORTABLY NUMB® close by me for my stiff neck and overused wrists. This has been a lifesaver when the sessions get long. "   ~ Daryl B.